Post by Funkytown on Aug 16, 2018 17:30:29 GMT -6
Why Your Team Sucks 2018: Baltimore Ravens
by Drew Magary
I thought I had reached the apex of my Ray Lewis hatred years ago, but no. No, my hate for Ray Lewis only continues to expand with time, not unlike the waistline of a Ryan brother. The hatred I bear has a full-on pituitary disorder because this twirling dipsh*t will eat entire planets whole before he ever cedes the spotlight. When Colin Kaepernick dropped to one knee, Ray Lewis dropped down on both knees because that's, like, one more knee. f*ck EVERYTHING WE'RE GOING TO FIVE KNEES. Did Ray backtrack on his kneeling immediately afterward? You know he did.
And that was before his interminable disgrace of a Hall of Fame speech: 34 minutes of incoherent babbling that should have earned Lewis a one-way ticket to the loony bin. Here is a man who believes that doing the Chicken Dance makes him a vessel for God himself. Here is a man who obstructed justice in two murders and began painting himself as the main victim of that crime the second he got out of that limo. Here is a man who thinks school prayer will prevent child sex trafficking. Ray Lewis a constant, criminal embarrassment, and yet you people built a STATUE for this idiot: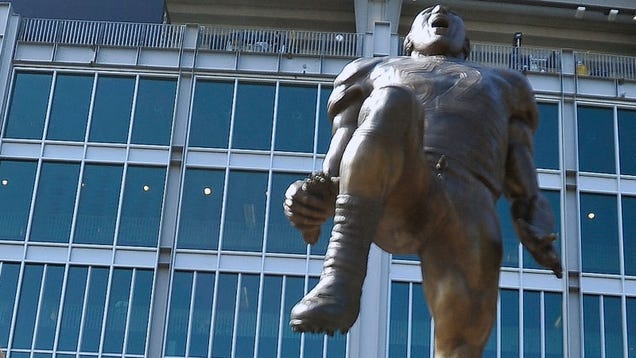 What a f*cking disgrace. Even Jerry Richardson thinks that statue is in bad taste. But if Ray Lewis' superhuman phoniness and his unrelenting self-aggrandizement bother this organization, they certainly don't show it. For the Ravens, Ray Lewis is a useful idiot … a handy pawn they can call on any time they need to blame not signing Colin Kaepernick on a mean tweet from his girlfriend.
Ray-Ray and the Ravens are of the same ilk: powerful entities for whom decorum means that no one should ever, no matter how politely they go about it, force self-appointed important people to confront their shortcomings. The entire Ravens organizational philosophy can be summed up by the credo, "No, YOU'RE the a$$hole." So f*ck Ray Lewis, f*ck Harbaugh, f*ck Steve Bisciotti and his penny loafers, and f*ck Dick Cass for blaming poor attendance on protests and not on the fact that his team starts a piece of dried-out melba toast under center. This team was designed to please suburban racist dads in bad golf shirts, and they've got their methods down to a science. These fans booed a prayer. f*ck them with a whole steamed crab.
The whole sh*tty enterprise is a perfect fit for Baltimore itself, an average city distinguished only by its hilarious defensiveness. All day long, these fans sit around wondering why they're not being appreciated enough, and most of them don't even have the stones to live in the city proper. Baltimore is everything unappealing about Philadelphia and D.C., but without any of the good stuff. It is Cleveland on the Chesapeake. Its centerpiece is a crummy waterfront strip mall where everything costs $20 more than it should. Johns Hopkins rivals Georgetown and Notre Dame for the gap between how impressed with itself it is and how unimpressed everyone else is by it. And yet people from Baltimore act as if they're some kind of national treasure, as if eating crabs and getting huffy about people mentioning The Wire to them constitutes some kind of legendary city culture. It's all garbage. Also, the Baltimore accent sounds like brain damage.
I can't believe Terrell Suggs is still around. That guy is Ray Lewis with bum legs and ugly teeth.
Rest at the link:
deadspin.com/why-your-team-sucks-2018-baltimore-ravens-1828383756
Holy crap!!! You mad, bro?!

Ashleyl87
gon' kill you!
This guy is good at rants! Reminds me of my buddy,
Reignman
.